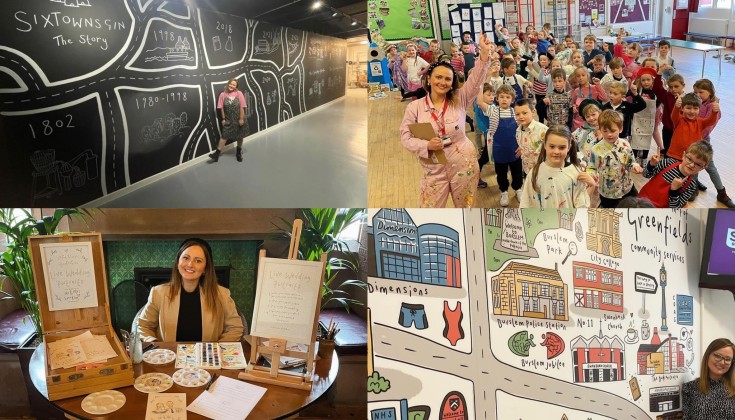 Young Business Person of the Year and Alumni Business Person of the Year entrant – Chloe Breeze
Illustrator, designer, mural artist, live portrait and event artist, art teacher, online shop owner, workshop facilitator and businesswoman – Chloe Breeze wears many hats but they are all beautifully designed.
The Staffordshire University illustration alumni worked as a book designer, florist and in admin at Wedgwood before taking the plunge during the pandemic to work on her own art full-time.
She has already sold thousands of products, drawn thousands of people at live events, taught thousands of pupils in workshops at dozens of schools and thousands of people have seen her artwork in public places.
Her murals have been commissioned by businesses and organisations including World of Wedgwood, The Donna Louise Hospice, Potteries Shopping Centre, Appetite and Newcastle-under-Lyme Borough Council. Many are on display in public places while others have been commissioned by individuals for their homes.
Chloe's business started with personalised portraits then diversified into an online shop, primarily with Stoke-on-Trent themed gifts designed to celebrate her hometown including tea towels, mugs, coasters, prints, colouring books and more. Her products are now also available to buy in shops around the county.
Chloe said: "Working in the community and with the people of Stoke-on-Trent being so friendly is a big part of what I do and why I do it.
"I meet and work with so many people who want to uplift the city and I want to do that too, through my artwork.
"Having different strands to my work means that I can work within the community in different ways. One part of why I love my business so much is that I can do all of these different things."
Chloe Breeze has entered the Young Business Person of the Year and Alumni Business Person of the Year categories of the Staffordshire University Business Awards.