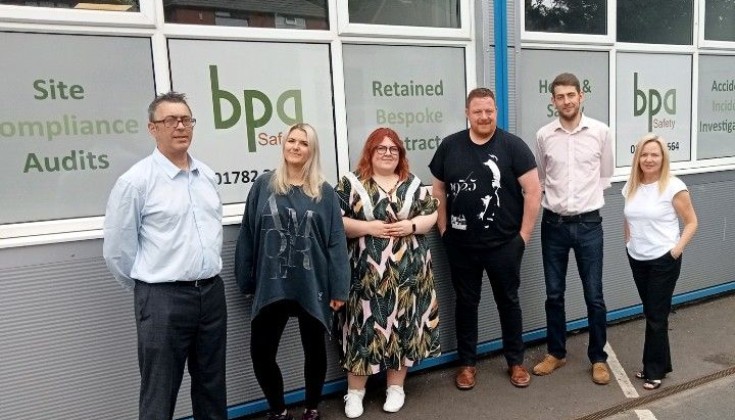 Team of the Year entrant – BPA Services
Lunch and Learn sessions, an extra day of annual leave for birthdays and group charity challenges are just some of the ways Stoke-on-Trent health and safety specialists BPA Services fosters team spirit among its staff.
The team is led by Managing Director Darren Bedson who is one of a small number of Chartered Fellows of the Institution Occupational Safety Health (IOSH), a Fellow of the International Institute of Risk Safety Management, Technician Member of the Institute Fire Engineers and has a Level 4 Diploma in Spectator and Security Safety. He's also Chair of the Midlands Region of the Football Safety Officers Association, playing a leading role in spectator safety in sport.
He said: "At BPA we embrace all skills, not just formal qualifications. For example, one staff member is a qualified lifeguard and previously held a managerial position in the leisure sector, while another member of our team comes from a hospitality background, another from a ground working company and, others from a construction background.
"They have an ability to liaise with people at all levels of an organisation and to support our clients in all aspects of safety management, providing professional, competent advice and supporting them with accreditation, audits, investigations. As a result, standards of support from BPA are rated highly."
BPA Safety works with more 70 retained clients, ensuring safety in the workplace and on building sites. These range from sole traders and small businesses who just want to pay for telephone support back-up through to large organisations who want regular days at their premises at a frequency of two or three days each month.
Clients include an international motor vehicle manufacturer, housing associations, construction, accountants, surveyors, manufacturing, heavy industry and football clubs in the Premiership and English Football League.
Darren added: "Team Building is always encouraged with wind down meetings and meals and birthdays celebrated. Everyone gets a day off on their birthday – an additional day, not one taken from their holiday entitlements.
"We're collectively discussing a major challenge event next year, such as the Three Peaks challenge."
BPA Services Ltd has entered the Team of the Year category of the Staffordshire University Business Awards.