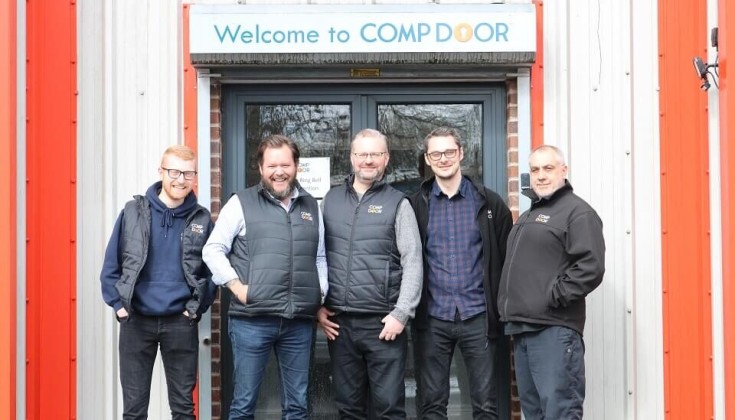 Innovation Award and Growth Award entrant – Comp Door
A Staffordshire door manufacturer reported revenue of £4.8 million in its first year and is on track for revenue of up to £10 million for year two. The projected turnover for 2024 to 2025 is £15 million.
Comp Door, based in Chesterton, Newcastle-under-Lyme, had just two staff when it was launched in November 2021 and now has a team of 49.
Comp Door's Technical Director, Pierre Mifsud, said: "The growth we've seen during Comp Door's short life is a testament to our team's dedication to constant improvement and I'm so proud of how we have been able to achieve our ambitions through consistent hard work and innovation.
"Comp Door's implementation of the Portal system in particular has been an absolute game changer with regards to our ordering and manufacturing efficiency, and it has already proven itself to be a reliable support mechanism for future business developments, such as new ranges or any major expansion to our operations."
The Portal system allows customers to design, order and track custom orders in their own time and from the comfort of their own home or office – eliminating the need for trips to the showroom to meet with a designer and time-consuming queries chasing the status of their order.
Not only does this increase order capacity and the rate they can be processed, it enables Comp Door to streamline processes because it simplifies tracking, shares how many ongoing orders are being made at all times, saves paperwork and maximises profitability.
The Portal now takes around 95% of orders, meaning the potential for human error is almost completely eliminated.
In May 2023 the company launched its new Discovery range of doors.
Pierre Mifsud said: "We knew there was increasing demand for European-style doors that suited new, modern houses. We also knew that these demands weren't being met without quality and durability being compromised in the process.
"At Comp Door, we don't cut corners – instead, we are always thinking of new ways to innovate and improve our service offering, and in doing so, lead the industry into its new phase of evolution."
Comp Door has entered the Growth and Innovation categories of the Staffordshire University Business Awards.