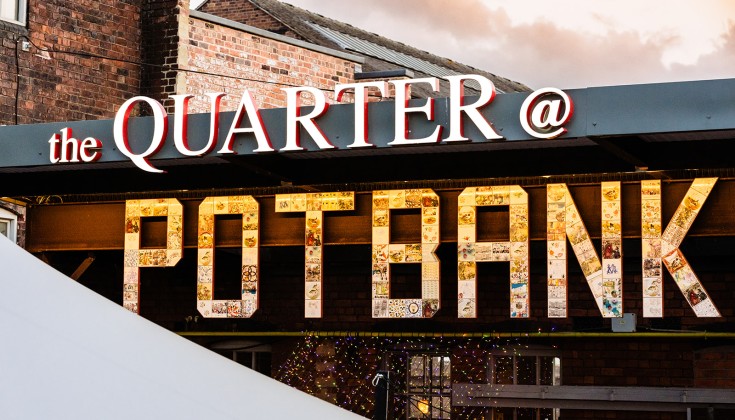 Growth Award entrant – The Quarter Cafe Ltd
When The Quarter Café opened in Hanley in December 2016 it had five staff and a turnover of £285,628 in its first year of trading. Fast forward to 2023 and it has become a restaurant and wedding venue, employs 45 people and is on track to reach a £1.5 million turnover this year.
The business, owned by Josef and Annmarie Bailey, recognised the need to diversify during the pandemic to keep its employees in jobs, to keep its brand alive and to be in the best possible position for post-pandemic recovery.
"We could have closed the doors and waited for it to pass, but no one knew what the timescale was going to be," said Annmarie.
"We wanted to keep our brand alive. Grants and support were available. Part of us considered just sitting and doing nothing during that time and letting it pass, like a lot of hospitality businesses did.
"But for us it was more important that we kept our brand alive and kept our staff in jobs. We created a new business model that meant we could keep our staff."
The Quarter diversified to sell food boxes including afternoon tea and cocktail boxes, retraining staff to prepare and pack the boxes or to deliver them.
It used well known food delivery platforms but also created its own online ordering platform so that it wouldn't have to pay large commissions to other businesses.
"It saved us a lot of money in commission and it also meant that some of our existing staff could become our delivery drivers," said Annmarie.
The business, now based at The Potbank at the Spode site in Stoke, has diversified even further to become not only a restaurant but a wedding and events for both corporate and private clients. It continues to offer a takeaway service and now stages live ticketed music events.
Annmarie and Josef's next development plan is to grow their children's party offering including visits from The Spacebus, a double decker bus kitted our for parties, and also celebrations themed around workshops with local artists and potters.
The Quarter Café Ltd has entered the Growth Award category of the Staffordshire University Business Awards.