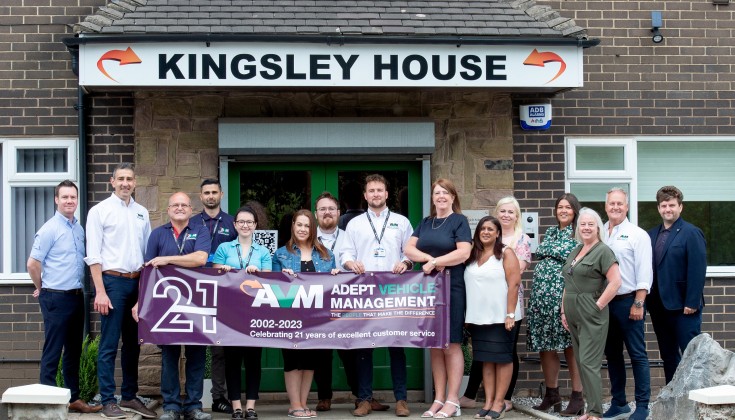 Growth Award entrant – Adept Vehicle Management
A Staffordshire fleet management company has more than doubled its profit over the last 12 months.
Adept Vehicle Management, which celebrates its 21 birthday this year, saw income increase to £2.98 million from £1.9 million for the previous year.
The Newcastle-under-Lyme company is a specialist, independent fleet and short-term hire provider across a variety of vehicle types for public and private sector companies and organisations across the UK.
The company is jointly owned by experienced industry specialists Mark Pedley and Carl Cumbo who had just four staff in 2018 but now employ a growing team of 22 with plans for more recruitment over the next 12 months.
Mark Pedley said: "We are delighted to have achieved the excellent growth we have over the last two years especially when you consider the impact that Covid had on our industry.
"We were able to invest to increase the number of vehicles we have under our management, which currently stands at 350 vehicles for the short-term rental market as well as 1,500 managed vehicles."
Carl Cumbo added: "I think three main things have contributed to our growth. The first is around customer service – our customer retention rate stands at 95%, with over 75% of the existing customers increasing their custom by at least 35%.
"Secondly, we also win new customers based on our reputation and many of our new customers come from existing customers who have recommended us."
Successes this year include being reappointed onto the Crown Commercial Services framework for the supply of Fleet Management Services – one of only 10 providers across the UK. Being on the framework gives Adept access to fleets within Central Government and wider public sector organisations with a combined 120,000 car and commercial fleet across England, Wales, Scotland and Northern Ireland.
This year has also seen Adept's rental division appointed by the UK's largest rental provider, Nexus Vehicle Rental, as a key supplier, supplying £2.8 million of vehicles with a contract value of around £600,000 a year.
As a result  Adept is already supplying vehicles to household names including Amazon, Royal Mail, E-on, Parcelforce and Cadent.
Over the last 12 months, as part of the company's green agenda, it has invested £1.5 million in electric vehicles to reduce their fleet's carbon footprint including launching a new service called Green Adept. It aims to help customers switch to greener, more environmentally friendly electric or hybrid cars or vans.
Adept Vehicle Management has entered the Growth Award category of the Staffordshire University Business Awards.