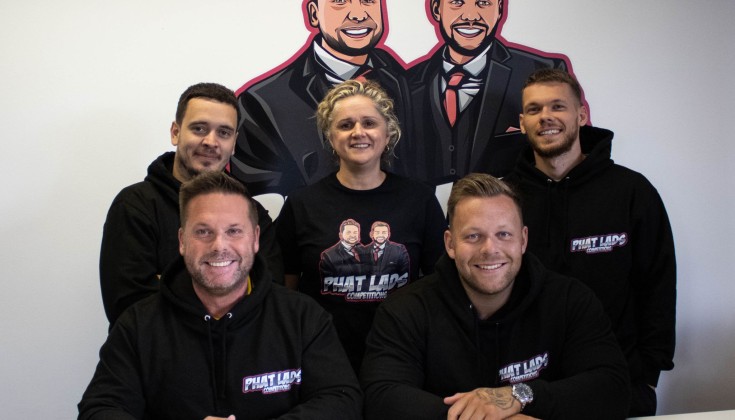 Growth Award, Business in the Community and Team of the Year entrant – Phat Lads
A pandemic side hustle to give away a pair of football boots on Facebook  has turned into a fully-fledged online business on course to turn over more than £1 million this year.
Phat Lads Competitions has thousands of online followers and founder Reece Thornton-Bate has even launched a charitable foundation on the back of his business's success.
The 30-year-old, from Cheadle, set up Phat Lads during the height of Covid in 2020.
Three years on the company's got its own office in Hanley, has amassed 40,000 Facebook followers (including closed group members) and 23,000 TikTok followers. It now has a team of five including Reece's dad, Paul Bate, who is also now a shareholder of the business.
More than 1,000 people have won prizes totalling around £1 million including cars, cash, tech and toys.
In its first year of trading the company turned over £200,000, last year it was around £652,000 and Phat Lads has already exceeded last year's turnover in the first six months of this year.
Reece's aim is to turn over more than £2.5 million next year, which he is well on course to achieving.
Reece studied IT at Leek College and has an IT, sales and recruitment background having worked for a number of private sector companies.
He said: "Initially I set it up as a bit of fun and ran a competition to win some football boots on a Facebook page. Timing is everything I guess and because we were in lockdown people had a lot of time on their hands. The page got more popular, so I started doing more and more giveaways.
"The number of followers really grew – literally snowballing – to the point where it got big enough for me to quit my day job, closely followed by my dad who also left his full-time role to run Phat Lads with me.
"I think I knew from that very first competition, which started as a bit of fun, that it had the potential to be something really big and although some may have seen leaving a good job to go it alone as a risk. The risk has really paid off.
"Seeing the Phat Lads community grow has been fantastic. I've always been ambitious and wanted to use the experience I'd gained in my career to build something that I could put my name to.
"Me and Dad have got a great relationship and have lots of fun doing Facebook lives and TikTok which seems to have captured people's imagination because we do such daft things. Hopefully we make people laugh as well as giving them the chance to win some great prizes, although we obviously always urge people to be gamble aware.
Earlier this year the Phat Lads Charitable Foundation was established after Reece and the team helped a number of people with fundraising activities and donations over the last few years. That included helping raise money for the family of a three-year-old from Stoke-on-Trent who has cancer.
Reese added: "I've got big expansions plans for the future and as a team we want to do all we can to rival the biggest competition websites in the country. Next year we want to be turning over £2.5 million which with the plans we have in place is achievable."
Phat Lads has entered the Growth, Business in the Community and Team of the Year categories of the Staffordshire University Business Awards.