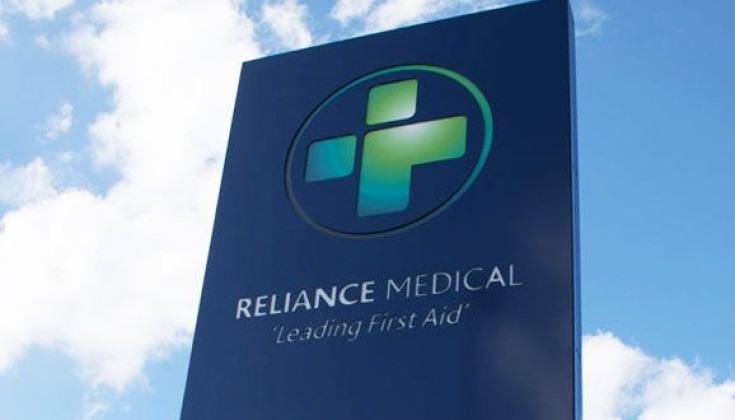 Business of the Year, Growth Award and Innovation Award entrant – Reliance Medical Ltd
The UK's leading trade-only manufacturer of first aid and medical supplies, Talke-based Reliance Medical is on track for a turnover of more than £30 million this year and has innovative new products that are 'better for the workplace and better for the planet'.
The company, which is on target for a £50 million turnover by 2025, also recently won an order to supply 20,000 lifesaving defibrillators for public buildings around the UK.
In late 2022 Reliance Medical launched Aura3, a range of 100% recycled and recyclable first aid kit boxes that will remove the need for virgin plastics, saving an equivalent of around 3.43 million plastic bottles every year.
Aura3 is a first for the industry and follows other Reliance Medical eco innovations including design changes to ensure 40% more can be shipped in containers to reduce the company's carbon footprint.
Set up more than 17 years ago, Reliance Medical Ltd employs 68 people in Staffordshire and a further 105 people at its manufacturing subsidiary Reliance Medical Shanghai.
Thomas Pear MBA, Managing Director of Reliance Medical Ltd, said: "Reliance prides itself on leading the industry in terms of innovation and thought leadership, supporting and affecting regulatory and legislation changes. Our aim is to continue to grow UK sales and open new export and retail markets around the world.
"Our record-breaking order for over 20,000 AEDs means many more people will be able to easily access these devices – we are proud that each and every one will be there when most needed to save a life.
"2022 was one of our best years in terms of core product sales and at the same time, one of our most challenging, even considering the pandemic in the previous two years. It is down to the goliath effort of our people that we have been able to achieve such impressive results."
The company has overcome considerable post-Covid supply challenges including a two-month lockdown in Shanghai coupled with industrial action in Felixstowe. As a result almost half a million items including first aid kits were produced in the UK.
In 2022 Reliance Medical opened offices in Ireland and New Zealand. It now has distributors in more than 40 countries and its reach grows year on year. 2022 also saw the company grow its sales on Amazon to supply the whole of Europe with first aid products.
It has a global reach but Reliance Medical is committed to giving back to the local community by supporting local charities. This July members of the Reliance team are taking on Ben Nevis, Scafell Pike and Mount Snowdon in a 24 hour sponsored three peak challenge in support of the Lyme Trust, a Newcastle-based  charity that provides safe accommodation, activities and life skills for people with mental health issues to help them return to independent living.
It also regularly donates first aid supplies where needed around the world including recently helping the people of Ukraine and those caught in the earthquake in Turkey and Syria.
Reliance Medical has entered the Business of the Year, Growth and Innovation categories of the Staffordshire University Business Awards.