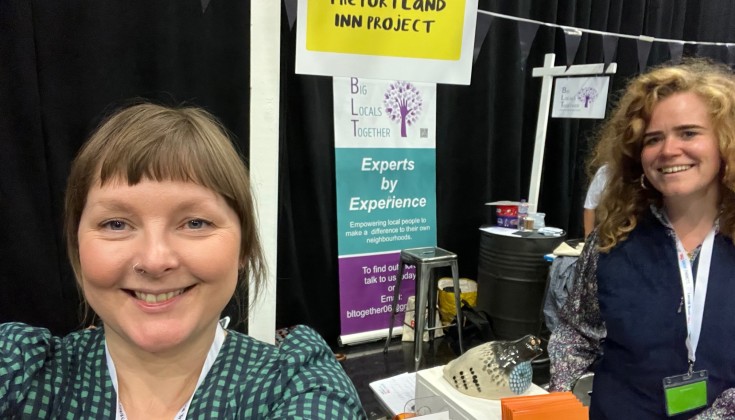 Business in the Community entrant – The Portland Inn Project CIC
The Portland Inn Project CIC has raised £1.2 million towards transforming a derelict Stoke-on-Trent pub into a community-led creative arts building, with building work set to start this summer.
The CIC, led by artists Anna Francis and Rebecca Davies, currently runs a year-round calendar of cultural activity and skills development for the Portland Street area of the city centre from The Pippin, an adapted shipping container.
This includes a weekly youth club, sports sessions, a women's group and a social enterprise to make and sell clay items including pigeons.
Based in Hanley, the Portland Inn neighbourhood is known nationally as the location where the £1 homes scheme took place and as such is an area which has seen significant regeneration schemes over the years, but is identifiably lacking in community infrastructure and has been identified as a neighbourhood with low educational attainment and high unemployment.
Anna and Rebecca want to achieve community cohesion, economic, social and cultural development by involving the community in a pioneering community space, cultural hub and creative programme. They want the social enterprise to support skills development in the neighbourhood and to ensure a sustainable income stream.
Anna, Associate Professor of Fine Art and Social Practice at Staffordshire University and alumni of the University, said: "2023 is the most exciting time for our community-led CIC as we embark on our co-created building development project and were also successful in being selected as one of Arts Council England's National Portfolio Organisations.
"We have a brilliant team of highly skilled creative professionals supporting our community to lead the change they want and need to see for our neighbourhood.
"Our programme focuses on developing skills in the community including social organising, cooking, gardening, creative making and sports. It supports long-term activity and events and helps the project and area to thrive.
"We are all about long-term sustainability and the development of core and embedded skills for the future of the project and the community."
The Portland Inn Project employs eight permanent staff and brings in creative practitioners and specialists to share their skills.
It has been working with the neighbourhood to write and now deliver a 100-year plan for the area to help ensure the community thrives.
The Portland Inn Project won the Whitegold International Ceramics Prize in 2020, and was named Cultural Champion of the Year at the BBC Radio Stoke Make a Difference Awards in 2019.
The Portland Inn Project CIC has entered the Business in the Community category of the Staffordshire University Business Awards.