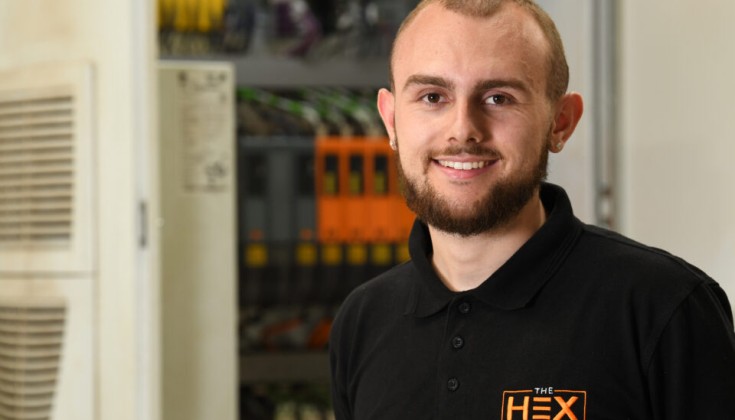 Apprentice of the Year entrant – Daniel Humphreys
Daniel Humphreys has been called 'a perfect example of what you can achieve through apprenticeships' by his employers, Hixon-based The HEX Group.
He joined the company as a 16-year-old school leaver and studied for a Level 3 Mechanical Apprenticeship with Alpha Manufacturing, a division of The HEX Group.
Six years on and he is a crucial part of The HEX Group maintenance team, where he works as a maintenance engineer and electrician.
He has completed a second apprenticeship, a Level 4 Electrical Engineering apprenticeship which he completed in February of this year, two years ahead of schedule.
Daniel has won several awards, both within the company and externally, including being named Outstanding Apprentice of the Year at The HEX Group's inaugural Apprenticeship Awards Evening.
This award recognised the apprentice who stood out the most to the business throughout the year, going above and beyond and displaying an outstanding commitment to learning, growth and development.
In January this year he was recognised by the Newcastle and Stafford Colleges Group who awarded him Apprentice of the Month.
This June he picked up another award from the college when he was presented with the Advanced Apprentice Award at the NSGC Celebration Awards 2023.
Matt Trussler, Facilities Manager at The HEX Group, said: "Dan is the perfect example of what you can achieve through apprenticeships with the right level of passion and commitment.
"He is an extremely hardworking and conscientious individual who is a true team player. It's been a pleasure to manage and mentor him – I'm so proud of what he's achieved.
"He is a crucial member of our maintenance team, always willing to go above and beyond and keep The HEX Group running. He is a credit to himself and The HEX Group, and he has a very bright future ahead of him."
Daniel has now been nominated as an Apprentice of the Year in the Staffordshire University Business Awards.